Institution:
UCLouvain, Belgium
IMCN - BSMA
Supervisors:
Charles-André Fustin
Evelyne van Ruymbeke
Field of expertise:
Polymer Synthesis and Rheology
PhD subject:
Synthesis and Dynamics of Double Networks based on Slide Ring Gels
Our research objective is to design new soft functional materials with improved properties based on the central concepts of double dynamics and slide-ring gels. Targeted key features of these new materials are:
Easy to process and recycle. Permanent bonds will be avoided. The systems will be in the equilibrium state, avoiding pre-stretching of chains and ensuring better fatigue properties.
Resist flow and creep. This requires the presence of long-lived or quasi-permanent bonding.
Dissipate energy to resist fracture. This will be achieved through the presence of supramolecular junctions, which can dissociate and re-associate under shear or extension, bringing viscoelasticity to the materials. In order to modulate relaxation and re-organization of the chains forming the network at will, we will vary the molecular structure of the building blocks. This will promote cooperativity of the supramolecular bonds as well as potential chain entanglements.
Large "equilibrium" modulus. This requires a dense (i.e. large bond concentration) supramolecular network.
Double network properties in melt and in solution. This will affect the dynamics of the reversible bonds, as well as the ability of chains to create entanglements, while keeping similar relaxation dynamics.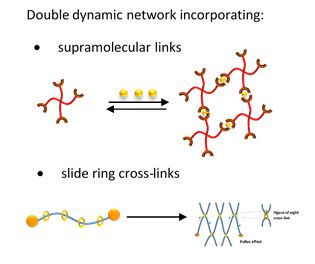 Employment history
IMCN, Université Catholique de Louvain, Belgium – Researcher
September 2018 – Present
Doctoral candidate as part of the Marie Skłodowska-Curie Actions ITN Dodynet involved in the synthesis and rheological analysis of polymer-based double networks
DOW Silicones, Belgium – Research Intern
MARCH 2018 – AUGUST 2018
Synthesis of novel organofunctional and structural silicone polymers and characterisation of their rheological properties.
UMET, Université de Lille 1, France — Research Intern
MAY 2017 - JULY 2017
Synthesis of polyazlactones with pendant pillararene groups to improve the ability to accept guest molecules and characterisation by NMR, SEC and fluorescence.
Caribbean Industrial Research Institute, Trinidad and Tobago — Associate Professional
SEPTEMBER 2015 - AUGUST 2016
Laboratory Technician - Routine nutritional analysis of food products and testing of industrial water samples according to SMEWW standards.
Quality Department Assistant - Audits of internal laboratories according to ISO 9001 and 17025 standards.
SRSMC Laboratory, Institut de Chimie, Physique et Matériaux, France — Laboratory Intern
APRIL 2015 - JUNE 2015
Synthesis of a series of cinnamic acid and cinnamaldehyde derivatives for use in medicinal compounds and characterisation by NMR and melting point.
Education
Université Catholique de Louvain, Louvain-la-Neuve, Belgium
Ph.D student in Chemistry
2018 - Present
Université de Lille 1, Lille, France
Master of Chemistry (M.Sc) in Polymer Systems Engineering
2016 - 2018
Université de Lorraine, Metz, France
Bachelor of Science (B.Sc) in Physics and Chemistry
2012 - 2015
St. Augustine Girls' High School, Trinidad and Tobago
Caribbean Advanced Proficiency Examinations (CAPE) diploma in Chemistry, Physics and Mathematics
2005 – 2012
Looking to contact researchers?