Institution:
ESPCI Paris
Laboratoire Chimie Moléculaire, Macromoléculaire, et Matériaux (C3M)
Supervisors:
Renaud Nicolaÿ
Field of expertise:
Synthetic Polymer Chemistry
PhD subject:
Design and Characterization of Double Dynamic Networks Based on Dynamic Covalent Bonds
A polymer network is a system consisting of cross-linked polymer chains. The cross-links can be of different nature and determine the characteristics of the material. Permanent non-dynamic cross-links allow the system to be creep and flow resistant, give enhanced mechanical strength and allow the material to swell without any loss in coherence. The downside of permanent non-dynamic cross-links is that they don't allow the material to be reprocessed or recycled. In contrast to that, dynamic cross-links, permanent or not, allow the material to be reprocessed or recycled. However, the unsteadiness of the cross-links leads to creep and limited mechanical properties. The ideal case would be a material that allows the combination of distinct features of both materials.
So called double dynamic networks (DDNs) are polymer networks that combine at least two distinct dynamic modes. As for the nature of these dynamic modes the toolbox of chemistry provides a wide range of possibilities. Cross-links can consist either of chemical (covalent) bonds or physical interactions. Chemical bonds are commonly permanent covalent bonds. However, some particular covalent bonds are reversible and thus can be also non-permanent. Reactions that can be used to form such bonds are diverse and can be placed in two categories: reactions that proceed via a dissociative mechanism (reversible cross-links) and reactions that proceed via an associative mechanism (dynamic cross-links). In the first case, the bonds that have been formed by two reaction partners have to be broken first before elsewhere a new bond can be formed. In the latter case the original cross-link can only be broken if the new reaction partner is actively involved in the reaction. Hence, a network built up by dynamic bonds has always the same amount of cross-links. This gives the material properties like self-healing, reprocessability, and malleability while simultaneously maintaining the networks integrity and toughness.
As a synthetic polymer chemist my part of the DoDyNet project is to design and synthesize novel DDNs containing dynamic covalent bonds. At the moment I am working on two different projects: In the first and main project, referred as 'Double Networks' I want to synthesize double networks with two different kinds of dynamic cross-links. In a first approach an Interpenetrating Double Network is created by the synthesis of two individual functional thermoplastics, which are subsequently cross-linked orthogonally by employing dynamic cross-links (Figure 1). The properties of this innovative material, like responsiveness, self-healing, shape memory, creep resistance, fatigue resistance, and mechanical strength will be assessed by various characterization methods.
The second project referred as 'Thermoplastic Elastomers' focuses on the employment of dynamic covalent bonds in thermoplastic elastomers (Figure 2). The elastomers are composed of linear A-B-A triblock co-polymers with 'hard' outer blocks and a 'soft' inner block. Due to micro-phase separation the outer blocks form hard domains that work as physical cross-links. The outer blocks are additionally connected by dynamic covalent crosslinks. This gives the system two distinct dynamic modes: one below the Tg of the hard phase and one above it. In contrast to conventional thermoplastic elastomers, this new system should retain its network structure above the Tg thanks to the dynamic covalent bonds.

Figure 1 : Interpenetrating double network created out of two individual functional thermoplastics that are cross-linked orthogonally by dynamic covalent cross-linkers.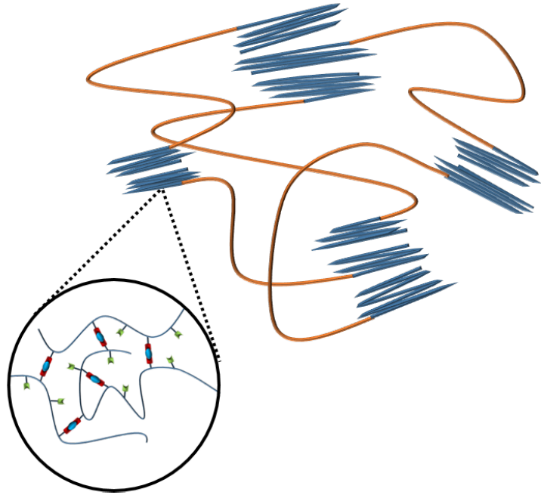 Figure 2: Concept of the novel thermoplastic elastomer: the hard phases of the blockcoolymers form crystalline domains below their Tg, which serve as physical cross-links. The outer blocks are additionally connected by dynamic covalent cross-links.
Internships
Industrial Internship, BASF SE, Ludwigshafen, Germany
01/18–04/18
Department "Functional Intermediate Polymers & Polyurethanes"
Synthesized novel isocyanate prepolymers for the application in wood binders. Molecular analytics
employing methods like NMR, IR, GPC, and TGA. Prepolymer characterization via DSC and
rheometry. Applied prepolymers as wood binder by test manufacturing of hot pressed wood pellets.
Industrial Internship, Chemetall GmbH, Frankfurt, Germany
07/11
Insight into research in the departments "Surface Innovation/Organic Coatings" and "Analytic
Procedures". Synthesized, prepared and evaluated polymeric coatings.
Education
ITN Marie Sklodowska-Curie project DoDyNet (Double Dynamics for design of new responsive polymer Networks and gels), École Supérieure de Physique et de Chimie Industrielles de la Ville de Paris (ESPCI) and Paris Sciences et Lettres (PSL), France.
06/18 – today
Supervisor: Renaud Nicolaÿ
Subject: "Design and characterization of novel Double Dynamic Networks based on reversible covalent bonds."
Developing polymeric systems (IPNs, TPEs) that contain two different kinds of cross-links of which at least one is based on a covalent reversible exchange, a so called 'vitrimeric' mechanism.
Characterizing materials properties such as responsiveness, self-healing, shape memory, creep resistance, fatigue resistance, and mechanical strength.
University Education
Master of Science in Chemistry, Karlsruhe Institute of Technology (KIT), Germany
10/15 –11/17
Grade: 1.3 (highest grade 1.0, lowest grade 5.0), Specialization: Polymer Chemistry Master's Thesis: "Spirothiopyrans as a Platform for Potential STED Lithography and the Preparation of SCNPs" in the group of Prof. Barner-Kowollik.
Synthesized small molecules and polymers containing spirothiopyran as a photoswitchable moiety.
Applied onto surfaces and in photoresists for STED inspired high resolution direct laser writing.
Employed spirothiopyran functionalized polymers in the formation of single-chain nano particles.
Research Internship during Master's Course, Queensland University of Technology (QUT), Brisbane, Australia.
10/16 – 01/17
"Synthesis of a Profluorescent Nitroxide for Self-Reporting Photorelease from Pyreneacyl Sulfides".
Research in the field of polymeric drug delivery systems. Developed a small molecule approach for a polymeric drug delivery system that is able to report a successful light induced drug release via fluorescence.
Bachelor of Science in Chemistry, KIT, Germany
10/12 – 10/15
Grade: 1.1, with distinction Bachelor's Thesis: Developed new "Debonding on Demand" concepts in polymeric materials in the group of Prof. Barner-Kowollik in cooperation with Ivoclar Vivadent, Liechtenstein.
Synthesized a polymer network that is able to degrade upon external trigger signals such as light or heat.
Looking to contact researchers?