Institution:
FORTH, Heraklion, Crete
Material Science and Technology Department
Supervisor:
Dimitris Vlassopoulos
George Petekidis
Field of expertise:
Shear Rheology and Light Scattering
PhD subject:
Nonlinear Viscoelastic Response of Metallo-Supramolecular Polymeric Networks
Recently, the research interest is focused on providing an extended experimental study of the linear and nonlinear shear viscoelastic properties of metallo-supramolecular transient polymeric assemblies under large shear deformation. This should be done, in order to examine the structure and dynamics as well as the presence of internal stresses after cessation of simple shear flow in the front runner building block in Double Dynamic Networks (DDNs). Thus, the motivation of the current project derives from the inextricable linked relationship between the structures the properties and the function of materials.
These transient networks are based on reversible, relatively weak and non-covalent interactions obtained by metal ligand coordination. The reversibility of the network provides unique properties such as tunability, self-healing, and shape memory features. Moreover, the metal-containing polymeric system may give access to additional magnetic, optical and electro chromic properties that can be helpful for numerous applications such as light induced adhesives, self-healing coatings and stretchable electronics applications. Last but not least, the possible industrial exploitation of transient networks is based on their processability and rheological behavior under large shear deformation.
The followed research methodology derives the above mentioned objectives and motivation of the research. More specifically, the structure and dynamics of the model networks is investigating experimentally performing linear and nonlinear rheological experiments. The collected data are analyzed in order to obtain fruitful information on how altering the temperature, the stoichiometric amount or the nature of metal ions, could be manipulated for designing single and double responsive networks with desired properties.
The preliminary results from the experimental study of the model system indicates the thermo-rheological complexity of the transient networks caused by the influence of temperature, stoichiometric amount and the nature of ions in the disentanglement process, the dissociation mechanism of the metal- ligand complexions and the proportion of dangling chains in the network. Overall, the addition of metal ions over the theoretical stoichiometric amount results more stable and higher cross linked network with significantly extended rubbery plateau and shifted terminal relaxation times to lower frequencies.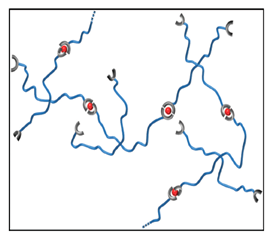 Professional Experience
Process Engineer Intern, Technip Hellas S.A, Athens, Greece
10/2013 - 11/2013
Delivered calculations and analysis in hydraulic system for refineries in Greece and Romania
Management of engineering documents
Develop engineering diagrams (PFD's, P&ID's) in respect to safety procedures
Volunteering
Engineers without Borders, UK
2016
Communitism project, Athens, Greece
2015 - Present
Reopening an abandoned building to the public - a sustainable example of community work
Project design and management
Contriving ways of social enterprise start-up fund-raising
NGO 'Diazoma', Athens, Greece
2013
Case Study: 'Culture and sustainable development with core ancient monuments for Eretria'
Delivered the design of a new strategic model for sustainable development
Contributed to the positive economic and social impact of the local community
Education
Ph.D candidate in Material Science and Technology Department, University of Crete
2018 - Present
Shear Rheology and Light Scattering
Teaching assistantship
Presentation and communication skills
University of Birmingham
2016 - 2017
MSc Advanced Chemical Engineering,
Strong delivery and reporting skills
Essential background in simulation and data analysis
Measurement Techniques, Colloids & Rheology
2009 - 2015
MEng degree in Chemical Engineering, National Technical University of Athens
Acquiring a sound overall knowledge of leading edge engineering principles, tools and practices, with emphasis on process safety and equipment design
Specialisation modules
Advanced Process Design
Industrial Hygiene and Safety
Project Management and Decision Support
Looking to contact researchers?