Institution:
ESPCI, Paris
Supervisors:
Michel Cloitre
Field of expertise:
Polymer Technology and Rheology
PhD subject:
Supramolecular Double-Networks based on Microgels with Associative Interactions
Supramolecular double-networks based on microgels with reversible associations
Microgels are soft colloidal particles consisting of a crosslink polymer network swollen with water. Jammed suspensions of microgels interacting through purely repulsive interactions have attracted a lot of attention but quite few studies have investigated the situations where the particles experience attractive interactions. On the other hand, the implementation of reversible associations is now emerging as an interesting strategy for engineering functional dynamic networks with tunable and stimuli-responsive properties. The objective of the thesis is to design, synthesize, and characterize supramolecular networks based on microgel particles used as building blocks.
We will start from well-defined polyelectrolyte microgels synthesized by emulsion polymerization techniques. The microgels will then be functionalized by grafting supramolecular moieties responsible for attractive interactions between contacting neighbors. At large enough concentrations, typically above the close-packing concentration, double-networks consisting of permanently crosslinked domains connected through tunable reversible bonds will be obtained.
The existence of reversible bonds is expected to be at the origin of novel structural and dynamical properties making these new systems attractive for applications. We will study the microscopic and macroscopic dynamics of concentrated double-networks in relation with the strength and the lifetime of the associations. Dynamic Light Scattering will be used to elucidate the microscopic dynamics of the network. Small angle X-ray and neutron scattering will give access to the network structure from the elementary mesh structures at scales of a few nanometers to large scales influenced by the respective arrangements of the building blocks. Linear viscoelastic properties and flow properties will be investigated using advanced rheological techniques including rheo-fluorescence microscopy. A special attention will be given to the existence of long-time evolution, aging, flow instabilities, and slip at surfaces.
The results will be integrated in a predictive model connecting the properties of the building blocks and the strength/life time of the interactions to the static properties (elasticity and structure) and dynamical properties of the networks (non-linear rheology, flow behavior). Particle dynamics simulations of 3D double-networks will provide guidelines and beyond possible comparison with simple models.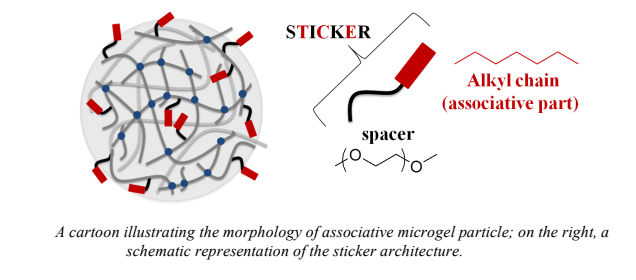 Employment history
Work Experience
PhD Candidate - ESPCI Paris Tech – PSL
January 2020 – Present
Subject: Supramolecular Double-Networks based on Microgels with Associative Interactions
With the aim of tailoring the rheology of dense microgel suspensions via controlled changes of particle microstructure and interactions, his investigations mainly involve:
Osciallatory Rheology measurement in linear and non-linear regime of solf materials
Use of Rheo-Optical Methods and Dynamci Light Scattering
Synthesis and Functionalization of Polyelectrolyte Microgels
Red Bull Toro Rosso – Formula 1 Team
14 Months: July 2018 – August 2019, Faenza, Italy
Bill of Materials Engineer
8 Months: January 2019 – Present
Worked in Design Office Coordination Departmet, delveoping a CAD integrated application to allow the efficient search within the database of commercial proprietary parts.
Programming in Visual Basic (writing codes for data extraction an manipulation)
Managing the proprietary parts database (SQL)
3D CAD model conformity check and correction for commercial components (NX 12)
Bill of Materials Engineer – Intern
6 Months: July 2018 – December 2018
Curricular Internship
Italian Institute of Technology (IIT)
6 Months: November 2017 – April 2018, Naples, Italy
Worked in team of 10, conducting experiments with microfluidics, analyzing data and reporting results.
Microfluidic production of polymer microparticles
Configuring the microfluidic platform (installation and setup)
Experimental measurements of diffusion (Fluorescence and Confocal Microscopy)
Collection and analysis of flow data (Matlab)
Education
University of Naples Frederico II
2016 - 2018
Master's degree: Materials Engineering
Final grade: 110/110 with honors
Average of marks: 29,5/30
Relevant courses:
Polymers', Metals', Composites' technology
MATLAB (FEM, Partial Differential Equations)
Materials Technology Laboratory
Thermodynamics of Materials
Nanomaterials
University of Naples Frederico II
2012—2016
Bachelor: Materials Engineering
Looking to contact researchers?